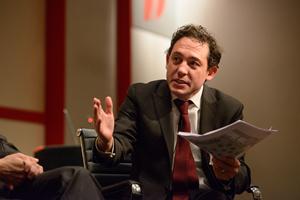 Simon Jack
Conference Facilitator
CESA Conference 2019
Simon Jack is the BBC's Business Editor, taking on a role previously held by Robert Peston, Kamal Ahmed and Jeff Randall.
Popular for his approachable, easy style, Simon formerly covered the day's business headlines for Radio 4's Today and BBC Breakfast News.
After time spent as a corporate and investment banker in London, New York and Bermuda, Simon joined the BBC's Business and Economics unit. He reported for the Today programme and 5 Live's Wake up to Money. He also presented business and financial podcasts for the Daily Telegraph.
About:
Simon became familiar to TV viewers when he covered the 2008 financial crisis for BBC News, the BBC News Channel and Working Lunch. He then replaced Declan Curry as the regular BBC Breakfast business news reporter, and has co-hosted the show as a stand in for Bill Turnbull.
Having interviewed some of the biggest names in UK and international commerce, covered the key events in business and the markets, and analysed the implications of policy and government, Simon has an insight few can rival. His down-to-earth style, humour, and occasional irreverence, make him perfect for explaining the complexities of economics and industry to both the expert and the layperson alike